The Best Fishing in the Far North
Houhora is the place to come if you want to catch Big Snapper! Join Professional skipper Zak Slaughter aboard "Relentless" and hunt down that big Snapper or one of the many fish species living in the Far North. Whether it be a relaxing fishing experience enjoying the beautiful scenery and marine life with family and friends in the Far North or battling the elements and hunting for that fish of a lifetime. We've got you covered!
The Fishing
Houhora, located in the Far North of New Zealand, is the place to be if you want to catch big Snapper!!! Most days we only have to travel short distances to put you in big snapper territory.
We catch fish year round
Snapper, Kahawai, Trevally, Tarakihi, Gurnard and John Dory can generally be caught all year round, only a short 15 minute boat ride from the ramp. Targeting the deeper water species and Gamefish takes a little longer at approximately 40-60 minute boat ride depending on sea conditions.
Active or relax
Soft Plastics and Slow Pitch jigs are a great way to cover a lot of ground hunting down those big territorial Snapper and will keep you very active throughout your charter. But if you prefer something more relaxing, anchoring up and fishing with baits gives you time to admire the beautiful scenery while you wait for that big Snapper to bite!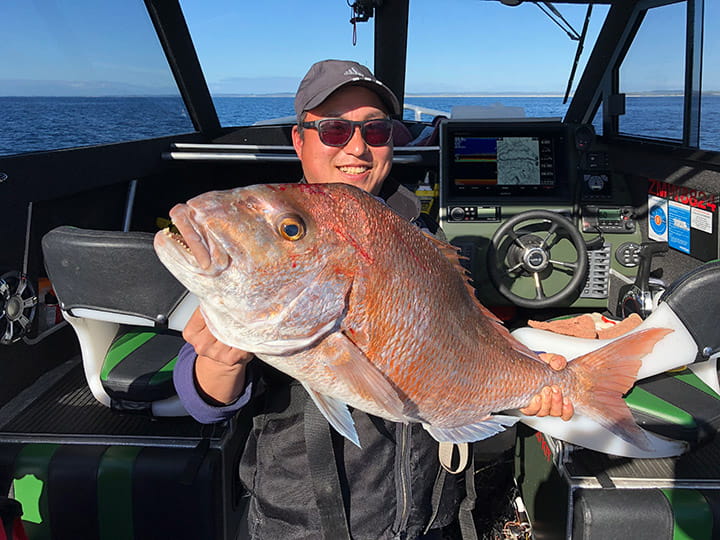 Fishing in deeper water
On days when the weather will allow, venture out into deeper water, targeting, Hapuka, Bass, Bluenose and other creatures of the deep using Jigs and Dead baits. You just never know what you're going to pull up from the dark depths!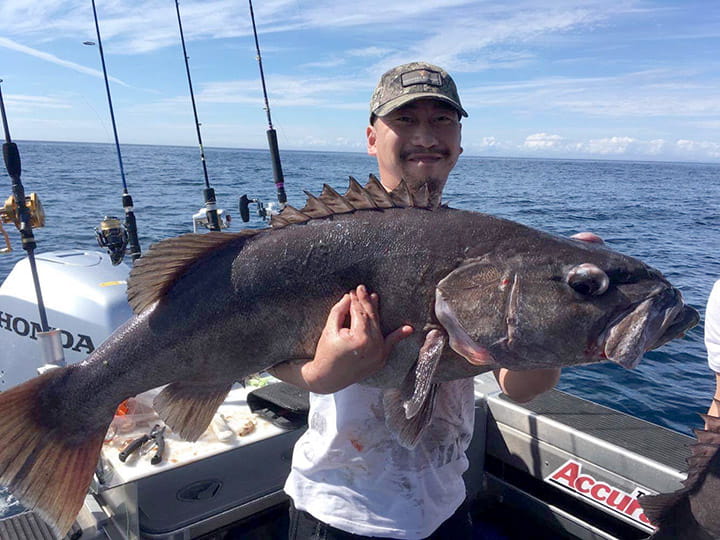 Pricing
Fish using soft plastics, slow pitch jigs and bait to catch SNAPPER and a variety of other species. Only a short distance from Houhora harbour.
1-4 people maximum
up to 6 hours
NZ$600
Fish using jigs, dead bait and softbaits to catch Snapper, Bass and Bluenose, approximately 1 hour by water from Houhora harbour.
1-4 people maximum
10-12 hours
NZ$1500
Boat and skipper only. No fishing gear, tackle or bait supplied.
1-4 people maximum
8-10 hours
NZ$800
The crew
Meet the crew of Slaugther Fishing Charters.
The Skipper
Skipper Zak has been fishing since age 5, competing in a number of tournaments with some great results over the years. Zak has fished with various experienced skippers and crew on different boats, including 5 years as a deckhand on commercial fishing boats giving him over 30 years of fishing experience and knowledge to guide you to catch that fish of a lifetime!
Zak loves targeting all the fish species the Far North has to offer and always strives to give his customers the best fishing experience possible with a bit of banter and a few laughs along the way.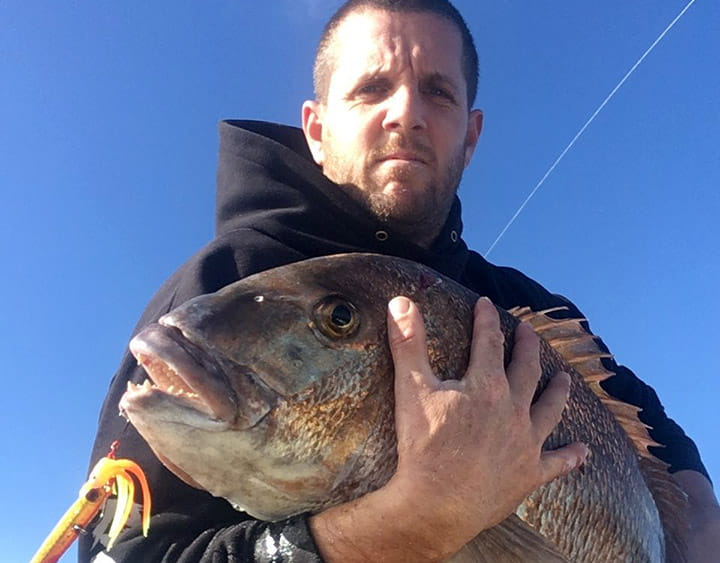 Shore Based Support
Zak's wife, Lisa, is in charge of the day-to-day running of Slaughter Fishing Charters while Zak is out on the water. Lisa takes care of enquires and bookings so Zak can focus on the fishing.
Lisa is also a keen fisho who gets out on the water whenever possible and loves a good laugh. Lisa has a 10 years of experience in early childhood teaching and also a passion for photography; if you ask her nicely, she might be able to organise your childcare while you're out fishing or take photos of you and your Far North fishing experience aboard "Relentless".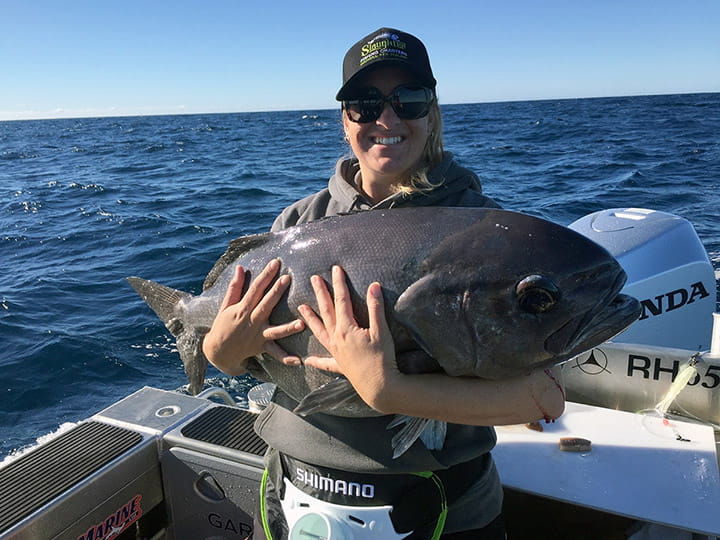 The boat
Our boat, "Relentless", is a custom-built 6.5 metre Senator in full Survey for 4 passengers + skipper.
Relentless
"Relentless" is powered by the mighty HONDA 225 Vtec outboard that will get you to the fishing grounds quickly and comfortably. We use the latest GARMIN electronics to find you that fish of a lifetime.
Other features
A Wide beam with pontoons provides a safe and stable fishing platform
Live bait tank
4x Tuna tubes
Game Poles
2x Large chilly bins to keep your catch fresh
A large range of safety equipment
Good seating and a large cockpit, giving you plenty of fishing room to battle that monster fish!
Flush toilet and Fusion sound system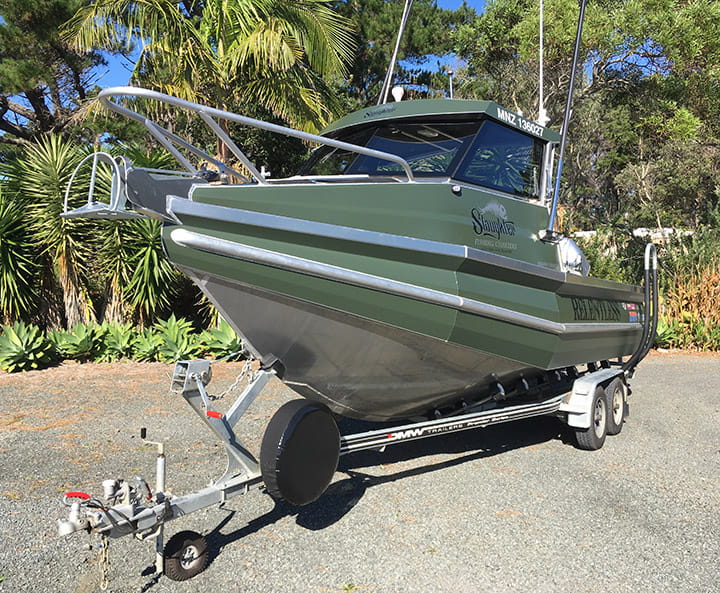 Fishing Equipment & Tackle
We use a combination of ACCURATE and SHIMANO rods and reels available in Left and Right-hand configurations to catch our fish. We fish using a variety of techniques including, soft plastics, slow pitch, jigs, live bait, dead bait, lures, teasers and dredges – all in a variety of top brand names.